As we get ready to head out of town for Mexico this Friday, what to do with Bruce became a big question.
While we were in Colorado, there were two places that catered specifically to cats. One was called The Scratchin' Post (ran by an older lady named Kat–she was crazy and the place was filthy) and the other was called Happy Cat Retreat (ran by an older couple out in the country-ish and was clean). They were places just for cats and each cat got let our of their cage to play with other cats or people. We loved taking Bruce to the second one. They had these lockers that were half indoor and half outdoor. Here is a picture of their cages: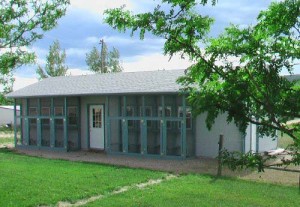 So this was the outside and it was the same on the inside of the building. The outside and inside were connected so that when it was nice outside, the cat could choose to be inside or outside…and Bruce loves to be outside. On a leash of course 🙂 Turns out that no place really exists like that up here (unless you want to pay an arm and a leg and a couple toes). I could really have a business idea here…ANYWAY, we decided to keep him at our home and have family and friends check in on him. That way there is less stress for Bruce and he is in his own home. I may pick up a new toy for him just so that he has something new to play with as well.
I am sure he will do fine as he has been left alone before and has done well with people checking in on him and of course, playing a little bit (a lot) of fetch.
Here is a little snapshot of our play session last night part of my Project 365 challenge.
Im not sure if I am doing a post yet on Friday but if I do, I'll see you then! If not, have a great week and a half and I'll talk to you after a little R & R! 🙂