After an unexpected break last week, I wanted to get back to blogging this week! So a later Monday post it is!
Friday:
Nothing really crazy happened on Friday. I took Mya to the dog park since it was pretty nice outside and happened to come across this little guy.
He is a 4 month old German Shepherd puppy. He was really well behaved and was pretty wiped out by the time we left! After that I got home and made some
lemon poppyseed scones
. I got the recipe from Budget Bytes. They were really easy and quite good! My husband's favorite flavor is lemon and he gave two thumbs up! Next time I think I am going to make it with almond extract with almond slivers instead of lemon. I didn't get any pictures of them so here is a picture from the blog post!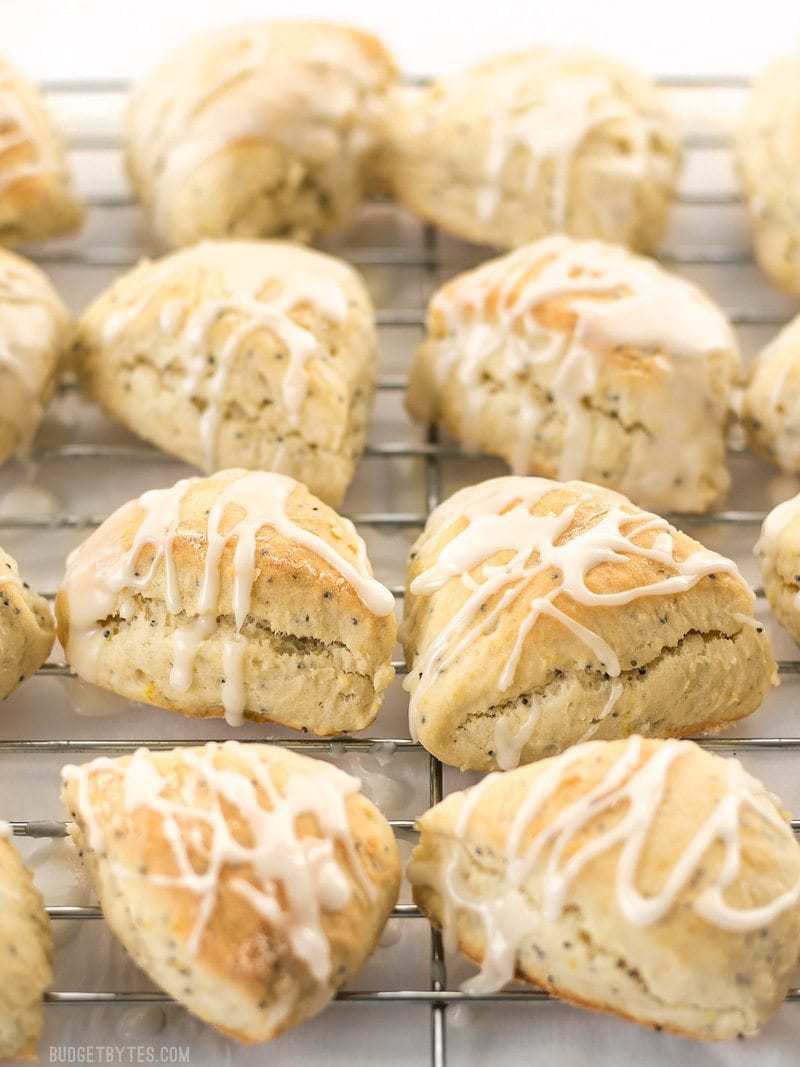 credit: Budget Bytes
After eating some dinner, we decided to have a margarita while watching both the Minnesota Twins and the Minnesota Wild loose 🙁 At least the margarita was good?
Saturday:
Since it was nice out, I decided to run to the Anytime Fitness right by our house instead of drive. It is about .8 of a mile each way. Let's just say it was super humid out and I was as red as a tomato when I got home. Since running the
half marathon
and
10 mile
run last year, I haven't run really at all. And I have to say…I don't miss it AT ALL. That .8 of a mile felt like forever. But I was good and warmed up by the time I got to the gym.
After we got home from the gym, I did some snuggles with Ms. Mya. She was in the smallest ball possible here. Full cuddle mode fo sho!
After some cuddle time, I made this Hello Fresh meal that we received last week. I have a review coming up so I won't go into too much but it was good!
Then later in the afternoon we headed down to Bill's sister's house to celebrate Easter with his family. The food was good and it was nice to get everyone together!
Sunday:
This was project day. I got a bug up my wazoo and wanted to get stuff done. I did some laundry, cleaned the main bathroom top to bottom, swiffered and steam cleaned the hardwood floors and put some tiles under the sink.
I've mentioned it before but Bill's mom gave the suggestion of getting some cheap sticky tiles from Menards and putting them in drawers/cabinets. I have done it to some in our kitchen but not under the sink. I just really tired at looking at the nastiness under the sink. It looks so much better now!
Mya and Bruce were able to soak up some sun as well. After completing all this stuff, Bill's parents invited us over for dinner. We decided, why not?! We packed up Mya and headed over to their house.
After that we headed home and I was in bed shortly after that!
Questions for you?
How was your weekend?
Do you celebrate Easter?
Linking up with Tricia, Biana, and the Tumbleweed Contessa!