I have seen these posts on quite a few blogs but realized I have never done one…so why not do one now!

Currently I'm…
Reading…


I started reading The 5 Love Languages. I have heard quite a few people talking about this book and thought I would give it a read. I have only read about 5 pages but so far it seems interesting and I am always up for books on how to improve or cultivate relationships!
Listening…


I pulled the trigger and have started listening to Spotify. There is so much music on there! Right now though, my two favorite songs are Hurricane by Luke Combs and Dirt on my Boots by Jon Pardi. Both are my JAM right now and anytime I hear them on the radio, I crank it up!
Watching…
Okay right now I have two big ones that have consumed my life time.
First one is The Handmaid's Tale.
I am not going to lie. This show is just crazy. There is a lot of nudity/language though, so if you are not a fan of this you may not like it. It is based off of the book written by Margaret Atwood in 1985. I don't think I could really explain what it is about so here is what Amazon says:


In a startling departure from her previous novels ( Lady Oracle , Surfacing ), respected Canadian poet and novelist Atwood presents here a fable of the near future. In the Republic of Gilead, formerly the United States, far-right Schlafly/Falwell-type ideals have been carried to extremes in the monotheocratic government. The resulting society is a feminist's nightmare: women are strictly controlled, unable to have jobs or money and assigned to various classes: the chaste, childless Wives; the housekeeping Marthas; and the reproductive Handmaids, who turn their offspring over to the "morally fit" Wives. The tale is told by Offred (read: "of Fred"), a Handmaid who recalls the past and tells how the chilling society came to be. This powerful, memorable novel is highly recommended for most libraries. BOMC featured alternate. Ann H. Fisher, Radford P.L., Va.


It definitely takes you out of your own mind for a little bit. The series is available on Hulu and right now there are 5 episodes available. They come out on Wednesday's so I'm excited to see yesterday's episode!
The other show that Bill and I have been watching is MTV's The Challenge. If you have never heard of The Challenge…where have you been?! I think they just started their 30th season so if you want to watch all of them, good luck! I would have to say it is a mixture between Survivor and Big Brother. A little bit of challenges that would scare the sh*t out of me mixed with a lot of drama. We downloaded the app on our Roku and have been watching all kinds of seasons. I think so far we have watched Battle of the Exes II, Invasion, half of Rivals III, half of Rivals I, and now we are a couple of episode into Battle of the Bloodlines.Guilty pleasure for sure!
Wearing…


Last fall Mya chewed up my favorite pair of sandals. I didn't have them for very long before she decided one day they would be a good snack. Luckily I got them on sale at Target and this year they brought them back!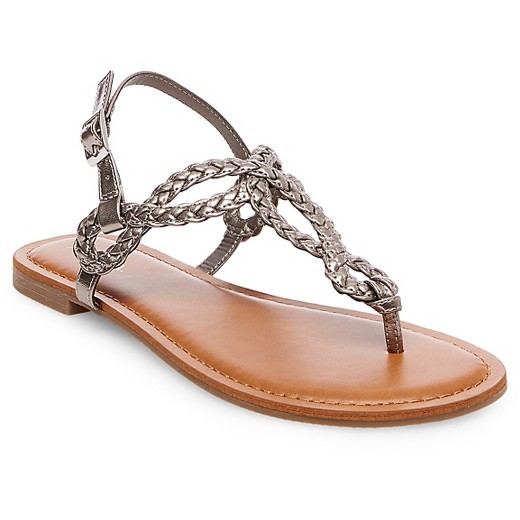 They are super easy to slip on and off and I haven't gotten any blisters…yet. Preeeety sure they are going to be my staple summer sandal!
Eating…


I haven't really been into eating the same things over and over again. But I have started making some breakfast egg muffins again. They really make eating a good breakfast easier and don't actually take that long to make on Sunday.
These are super customizable and this time I used some leftover turkey breakfast sausage, peppers, whole eggs, egg whites toppled off with a little cheese. For breakfast I usually have a piece of toast with some raspberry preserves, 2 muffins and half of an avocado. It usually keeps me full right up until lunch.
Drinking…
I have really been enjoying moscow mules lately. I know, I know I am late on the bandwagon. But I'm on it now! We don't have any copper mugs but I think they taste just fine in a regular glass as well.
Enjoying…


These two. <3
They are both enjoying the outside weather and….EACH OTHER? We have caught them a couple of time sitting very close/right next to each other. I think they secretly really like each other but get tired of acting like they hate each other.
Looking forward to…


This weekend. We don't have a whole lot planned but I would really like to get started on my garden. I know that we are dwindling down from the best times to plant…so this weekend would be great…if the rain could just stop for a second. Also looking forward to next weekend. It is Memorial Day and we are headed up to ND to go to my parent's lake place. Fingers crossed the weather is nice and doesn't blow us away!!
Thank you so much for reading today. I hope you have a great day! Check back tomorrow for a look into Our Day at Busch Gardens!




Questions of the day:


Is is raining where you are?


Any garden planting in your future?


What are you currently into?


*this post may contain referrals or affiliate links. Thank you for supporting Whiskers and Weights!